About the Artist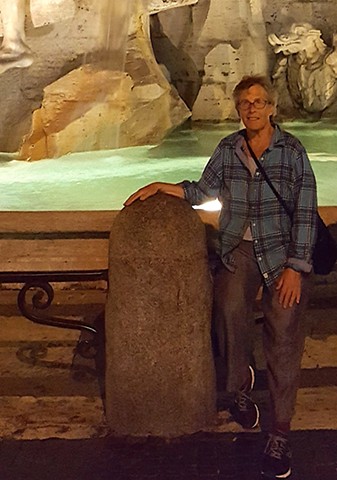 ABOUT THE ARTIST
Phyllis Bluhm is a visual artist working in the media of oil, acrylic, encaustics, assemblages, and collages. She received a certificate from the Northeastern University Physician Assistant Program and has been working in the field for over 36 years. She also has a master's degree in Art Therapy from the University of Louisville and a psychology bachelor's degree from Boston University.
Phyllis was the president and co-founder of the Cornwall Gallery in Jamaica Plain, Massachusetts from 1990 to 1993.
Together with photographer Ilene Perlman, in 1992 Phyllis co-curated the Woman and Food exhibit bringing together 36 women artists from all over the country in conjunction with coordinating performance pieces for the event.
JURIED SHOWS
9/2017 - 10/2017, Portraits, Menino Arts Center, Hyde Park, MA
3/2017 - 6/2017, Picture Social Justice and Human Rights, Gallery 1581, Brookline, MA
GROUP SHOWS
3/2017 - present, Looking Through Walls: Peace and Justice in the Middle East (Collaborative Mosaic Mural), Gallery 1581, Brookline, MA
5/2017 - 6/2017, Jamaica Plain Arts Association Member Exhibit, Footlight Club, Jamaica Plain, MA
2/2017 - 5/2017, Boston Neighborhoods, Massachusetts Convention Center, Boston, MA
1/2017 - 2/2017, Winter in New England, Boston Neighborhood Network, Dorchester, MA
1/2015 - 1/2017, Looking Through Walls: Peace and Justice in the Middle East (Collaborative Mosaic Mural), Boston City Hall, Boston, MA
1/2015, Encaustic Art by Boston Women, Pop Up Gallery, Roslindale, MA
4/91, Edible Art, Cornwall Gallery, Jamaica Plain, MA. Awarded 3rd Place Prize for "Meat and Potato Man"
1991, Sheltering Sky, with Ilene Perlman, Cornwall Gallery; selected as "Hot Picks" in the Boston Globe
SOLO SHOWS
7/2012, Los Colores de Mexico, West Roxbury Library Gallery, West Roxbury, MA
11/2011 and 11/2009, Roslindale Open Studios
6/2011, Travels, Fornax, Roslindale, MA
8/2010, South Shore Dermatology Group, North Easton, MA
12/2008, 1st Universal Church, Franklin, MA
Fall 2008, Changes, an olio of works over the years, Bangkok Café, Roslindale MA
7/2008, J.P. Licks, Jamaica Plain, MA
7/2008, Green and More Green: Travels in Scotland, West Roxbury Library Gallery, West Roxbury, MA
6/2008, First Thursday, Jamaica Plain Library, Jamaica Plain, MA
6/2005, Slouching Towards Bethlehem, Emack & Bolio's, Jamaica Plain, MA
12/2004, Future Shock, Emack & Bolio's, Jamaica Plain, MA
1/2004, Second Reflections: Newfoundland, West Roxbury Library Gallery, West Roxbury, MA
6/2003, Newfoundland, Emack & Bolio's, Roslindale, MA